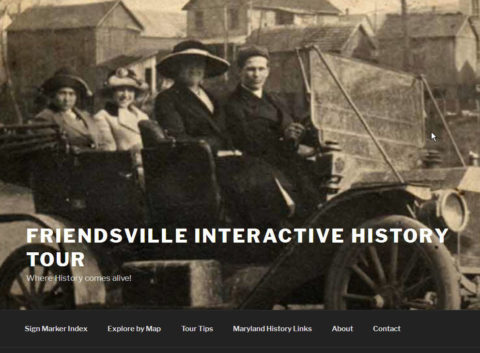 Native American occupancy
The site of Freindsville has long been a gathering place for people. Native Americans  have been visiting this bend in the river for over 3,500 years. In 1950, the Carnegie Museum of Pittsburgh investigated the Friendsville Site as part of a three-year survey of the entire Ohio River drainage system. Before I-68 was constructed In 1969, Tyler Bastian, then the Maryland State Archaeologist, was alerted that the proposed construction of the National Freeway (US Route 48) and the relocation of Maryland Route 42 threatened portions of the Friendsville Site. A major archaelogical dig was undertaken near where the Baptist Church is on Water Street and test pits dug. The dig revealed not only the presence 49,000 artifacts from the most recent Shawnee Village but also deeper down revealed the presence of earlier pre columbian cultures such as the Adena Mound Builders (800BC) and Hopewell culture. Many of these artifacts are in the form of arrowhead, ceramic shards and stone tools and the remains of post holes used in shelter construction.
The area was well know by the Shawnee as 'The Hunters Bowl'. It's bottom land perfect for the cultivation of Beans, Corn, and Squash. The unique geography funneled game through the valley and the river was filled with fish including salmon.
Colonial
Friendsville is named after its first European settler, John Friend, who came to what is now Garrett County before the American Revolution. Many of Friend's descendants live in Garrett County today, and the headquarters and library of the Friend Family Association are in Friendsville because of this connection.
"Friendsville was initially founded in 1765 when John Friend Sr. (1728 to Aft. 1808) traveled from (what is now) the area of Paw Paw, WV. If you are from the Garrett County, Maryland area and a descendant of one of the many pioneer families, we are sure you think that a new article about the history of Friendsville could not be written. In many ways this is correct. There has been much written of this area, along with some family histories. However, if (as some old timers would say) "you have the mud on your feet and you can never wash it off", there is pride for this land, this area, and these people."
From Friendsville a Brief History Shirley Drent, Patty Friend Thompson, Patrick Smith
In Person History Tour Tips and Info

The tour is FREE and is a self guided experience. Groups may inquire about hiring a local guide to lead a history program.
Basic Tips
Tour takes about 2.5 hours to complete.
Start at the large hiker and boater parking lot (view on google maps ) on Maple Street by the main bridge over the Yough River. The kiosk has a large map to check out and has tour brochures that feature a town street map with the marker locations shown. Part of the fun is navigating around town and finding the markers.
Be careful on town streets and be aware of traffic . Some of the markers are near or beside roadways. If in a larger group please do not block traffic.
If you have an internet connected phone or tablet you can scan the QRC code (find APPS here) and listen to stories by some of the town's elders. Some folks prefer individual headphones (depends on the loudness of your onboard speakers).
Please please— post pictures, videos, comments etc to the Friendsville Interactive History Tour FACEBOOK page. Please note the posts are moderated so be patient.
The town is bike friendly and on some roads you have the right to use the full lane. Signs will indicate these areas. Sidewalk bike riding is ok as long as pedestrains are given the right of way and you stop for them to pass.
Picnic supplies can be purchased in town and the restaurants offer to go menus.
The town community park is a great place for a picnic and you will find pinic tables and nice areas to relax. The park may be closed for private functions but 95% of the time this is only on a Saturday. Check the town website.
Please respect our town's residents and please stay clear of private property.
Dogs must be on a leash. Please clean up after your pets.
If you plan to explore the Kendall trail in mid summer we recommend you wear a baseball cap or other type of brimmed hat. In some areas you will find gnats and without a brimmed hat it can be very annoying. For some reason with a brim the problem is solved. Spring Fall and Winter (Sept-May) the scenic corridor is relatively insect free. Ticks should always be checked for after a trip in any leafy forest.