Directions to the Trailhead via Google Maps
There is very limited parking at the trailhead. Visitors may park at the town trailhead parking lot on Maple Street, Go across the bridge and turn right on Morris Ave. Trailhead is on your right in 1/16th mile.

Since vanished Town of Krug – Kendall Lumber Company
Approx 1920
Great website and story on the abandoned town of Kendall (AKA Krug) and the history of the Upper Youghiogheny.
The Little Town in The Woods by Chris Preperato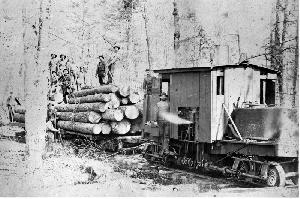 This short (out and back – 4 miles round trip) trail runs along the Youghiogheny River upstream from Friendsville, MD. It follows an 1890s era railbed to an old logging community called Kendall (originally Krug).  Little remains of the town of Kendall (town was on the opposite side of the river from the trail), but in its heyday this busy mining and lumber town was the southern terminus of the Confluence & Oakland Railroad and the beginning of the Krug Lumber Railroad that had narrow guage rail lines extending throughout the river valley. Kendall is gone and identified by the rock ledge beside the water and the trail getting twice as rugged beyond. The very rocky and difficult to bike trail continues to National Falls.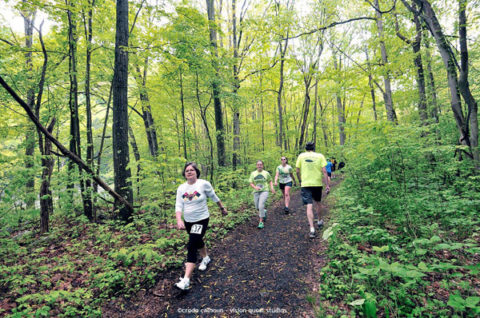 Photo from the 5kRun-3KWalk event.
The trail follows the river into the Youghiogheny Wild and Scenic River Corridor with numerous places to go to the river's edge and swim and relax. In spring the trail abounds with wildflowers and in summer in the afternoons hikers can watch the kayakers come down the river on the water release.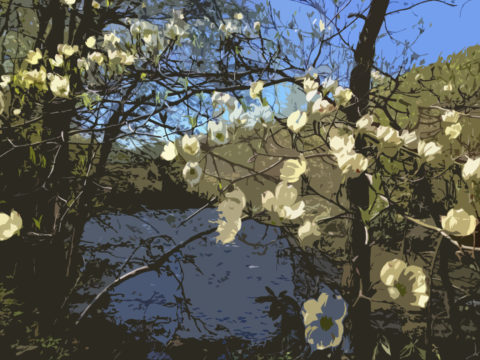 Note: Care must be taken on release days to not go across the river or you may have to swim back. The water release fills the riverbed from low to full in about 15 minutes. There is also private land nearby so please stay on the trail.
Guided Riverwalks by All Earth Eco Tours
For those that would like a tour with a knowledgable local guide. Learn about the flora and fauna as well as the history of the the area. 3.5 hour nature walk to the Great Ledge Swimming Hole. Fun for the whole family. Wildflower Walks in Spring.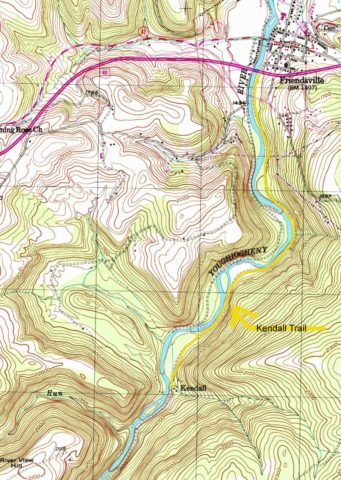 Download a pdf of this map.pdf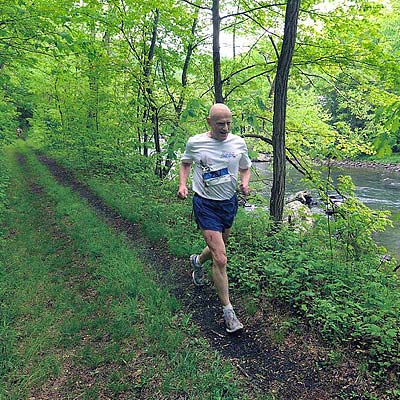 In 1976 a 21 mile long segment of the Youghiogheny was designated as Maryland's first Wild River. A state protected corridor along the river runs from Miller's Run just north of Oakland to the town of Friendsville. This corridor is managed by the Maryland Park Service to preserve the wild and natural scenic, geologic, historic, ecologic, recreational, fish, wildlife, and cultural resources.
View the River Management Plan