UPDATE: 6/14/2017
After meeting with the SHA engineer, project and property records staff in Friendsville it was reasonably determined that the land for the proposed wildlife viewing platform was actually owned by Penelec/First Energy. More details have to be ascertained and it was decided that the project was not able to meet this years deadline for the ARC grant cycle and that some conflicts did exist with the funding sources since the State Highway Rec Trail funds are actually Federal Funds. The consultant and the circuit rider decided to withdraw the project from the immediate deadlines of this years funding cycle the County Commissioners had been considering. It was decided to proceed forward with with an analysis of wetland impacts and mitigation as well as proceeding forward with engineering options.
---
The Friendsville town council for the second time voted positively to move the Kendall Trail Gateway Project and Wildlife Viewing Platform forward. The Town's circuit rider Peggy Jamison and and local volunteer Crede Calhoun have been given the go ahead to pursue a $47,000 investment in a quality wildlife viewing plaform at the perenial wetland 100 yards from the start of the Kendall Trail on State Highway Administration land. The vote authorizes the grant writing to proceed and to seek the funds. The grant has not been awarded. The monies sought for this project are only available for these types of projects and will not detract from the availability of additional funding mechanisms for the town.
The developer of the project Crede Calhoun has agreed to raise $2,000 on the town's behalf for the  $47,000 return. Any other public obligation would be subject to review prior to proceeding. Bids will be sought for all phases and aspects of the project and it is hoped the town will administer a summer jobs program for local youth to remove invasive species in the area (see below). This project takes previously unused property and turns into a valuable resource for visitors and trail users. Full details and engineering will be available for public review and input as the project and grant details progress. Full approvals by MDE, DNR and SHA are pending.
Intended source for the grant funds are the Appalachian Regional Commission and the State Highway Recreational Trail funds. These funds are available for economic development projects and trail building and in no way impact school funding or other community funding opportunities.
Wildlife Viewing Area Concept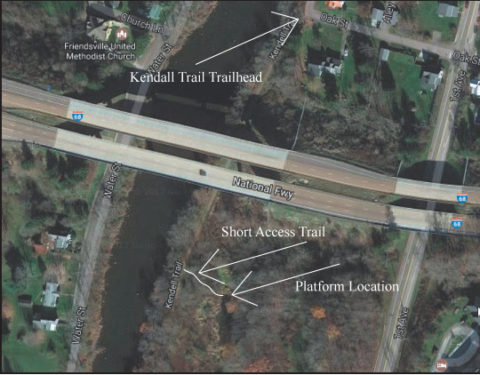 Friendsville has a unique opportunity to really seize the day by utilizing and improving its existing resources and capture a part of Maryland's 17 billion dollar tourism industry.
The significance that tourist travel may have for employment is suggested by a U.S. Chamber of Commerce estimate that cash which a community receives from 24 tourist visits per day is the equivalent of a factory with an annual payroll of $100,000.
Approx 20,000 vehicles pass right by Friendsville everyday. We are an easy stop for a rest and many of these motorists travel this route regularly. If folks can DISCOVER Friendsville they might just make it a regular stop or talk about it to others.
One way to take advantage of this traffic is to provide unique and memorable places for visitors to explore, discover and visit. The Wildlife Viewing Platform would be a new amenity for the town. It's a way to introduce people to the Kendall Trail and give folks that can't hike far a taste of nature.
When visitors ask what there is to do here, this is an activity for businesses and citizens to suggest. Not only can folks suggest the Park, the playground, and the new History Tour, or Museum, they could also suggest a visit to the Wildlife Viewing Platform. Providing interesting, relaxing and creative reasons to stop here is important to attract first time visitors and repeat visitors.
Economic Impacts – How Small Towns Can Use Local Assets to Rebuild Economies
1) Direct impact to shopkeepers and stores and businesses of Friendsville from increased visitors.
2) Increase exposure and promotion for the Kendall Trail which in the long term will increase visitor traffic and boost overall economic activity in town.
3) Help Friendsville reinforce it's outdoor recreation and conservation reputation.
4) Help Friendsville attract families to relocate here or to the surrounding area by showing them that we care about the environment and will provide educational and safe activities for residents and visitors.
The Educational Impact
1) Provide a nice place for school groups and others to learn about the importance of wetlands and the diverse plants and animals found in Youghiogheny Wild and Scenic Corridor.
2) Provide a place for the general public to learn about the bio diversity and critical importance of wetlands.
3)Provide Kendall Trail visitors information about the imporatnce of this resource and its protection.
Community Benefits
Easy access for seniors living at the Friendship Heights Apartments.
Easy access for young familes and the mobility challenged.
The Platform Includes Intrepretive Signage
The displays themes would be
• Importance of Wetlands
• Common and endangered or threatened plants and animals of the Youghiogheny
Wild & Scenic Corridor
• General description and map of Wild and Scenic Corridor.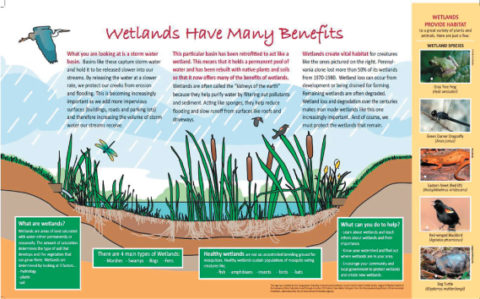 Interpretive sign sample.
SAMPLE TEXT: Wetlands provide significant economic, social and cultural benefits. They are important for primary products such as pastures, timber and fish and support recreational and tourist activities. Wetlands also help reduce the impacts from storm damage and flooding, maintain good water quality in rivers, recharge groundwater, store carbon, help stabilize climatic conditions and control pests. They are also important sites for biodiversity.
This particular site is of interest for it illustrates the adaptability of plants and animals to co-exist near a major intrusion like a freeway. Given good habitat, nature can co-exist in surprisingly diverse and sustainable ways if given space and opportunity.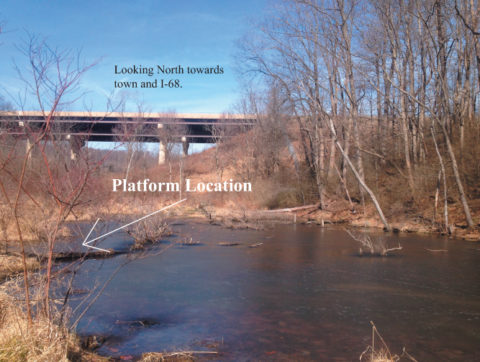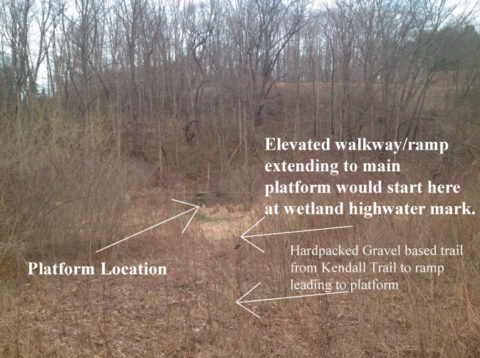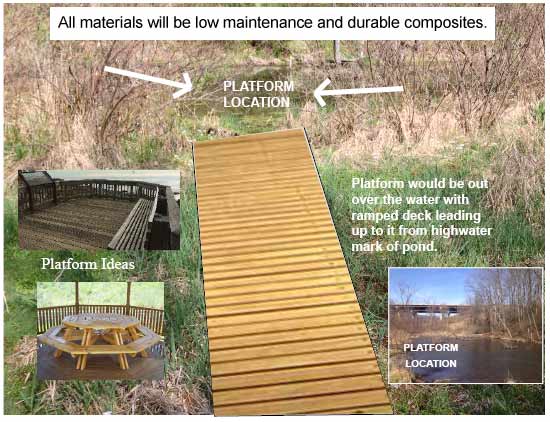 From the Maryland DNR: "As the Maryland Park Service conducts its management activities along the Youghiogheny River valley, numerous sites containing rare, threatened, or endangered plants and animals have been discovered. Tucked away in small, forgotten slopes and hollows can be found a diversity of at least 11 animal and 15 plant species that are threatened or endangered on a statewide or national basis.
The remote and rugged character of much of the river corridor is partly responsible for the presence of viable populations of these rare species. TheMaryland Department of the Environment is engaged in an ongoing management program that includes reasonable and wise land use regulation of private land logging, use, and development to ensure their continued presence."
This Wildlife Viewing Platform Project lies just outside the Corridor boundary on Maryland State Highway Property. The town and local citizen groups would provide ongoing maintenance and inspection of the platform.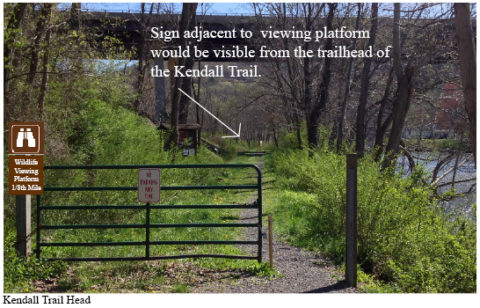 Proposed Signage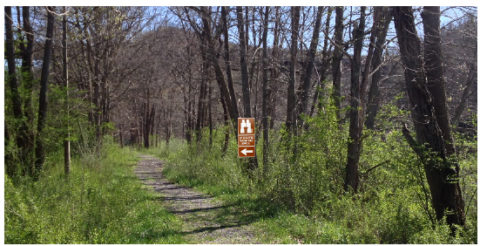 Interested persons may contact the town at info@friendsville.org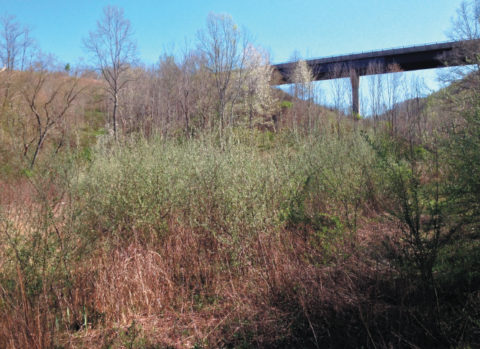 Invasive species of Privat and Russian Olive are rapidly taking over the natural wetland and river buffer and meadow. It is hoped that this project can include a summer work program for town youth to clear out these invaders and perhaps plant native species.