DON'T WAIT UNTIL IT'S TOO LATE TO CAPTURE YOUR FAMILY'S FRIENDSVILLE MEMORIES!!
The Friendsville Interactive History Project is proceeding and video stories are being recorded. The project was lucky enough to interview Bill Slagle prior to his passing and project consultant and designer Crede Calhoun is actively setting up recording sessions. Familes are encouraged to help the process and get their elders and storytellers involved. Recording sessions are relaxed and can take place anywhere within a reasonable distance from town. Lots of subjects being explored.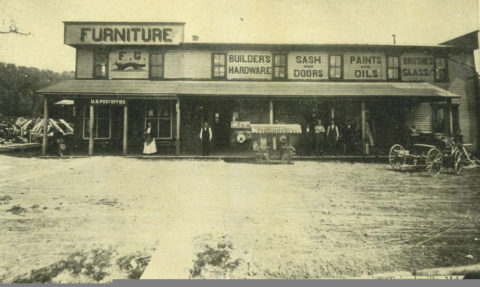 There will be storytelling recording sessions offered on January 8th and 15th (Sunday afternoon) from 1:00-5:00PM. These will be round table story opportunities and individual story collections.  Call Crede Calhoun at 301-746-4083 for information and to get involved. Sessions will be scheduled.
Topics Can Include
Railroad Memories
Memories about Businesses
Memories about events
Funny stories
Recollections of what town was like back in the day
Memories about Friendsville pre I-68
Memories of Friendsville's 'Dodge City' Days.
Sports memories
Cider mill memories
School stories
Shanty Town memories
Friendsville's Trucking Days
Memories of long gone citizens
Family memories
Military service memories
Disappeared buildings
Childhood memories
Stories recorded elsewhere can also be sent to Crede for possible inclusion. Interview your relatives with your smart phone and have them tell their favorite story. The project can use them or at least archive them for posterity.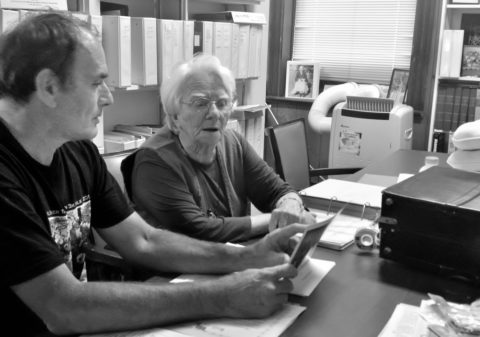 Crede Calhoun and Ina Hicks working together on the content and design of the tour.
PROJECT DESCRIPTION
Develop 17 signage markers for permanent display around town denoting places, people, stories, or buildings of historical interest. Markers will be high quality metal weather and UV resistant signs, framed and attached securely to buildings or posts.
Walking Tour Map Brochure of town will be created showing marker locations and provide some historical information. Map will be designed to provide additional promotional information on the town such as calendar of events and business directory listings.
Web site Component
Each physical marker will also include a QCR CODE symbol that when read by an internet connected smartphone will jump to a specific webpahge correspoding to that marker. This web page would consist of more textual information, mores photos and embedded YouTube videos of storytellers recounting stories relating to the town's history and/or that marker location.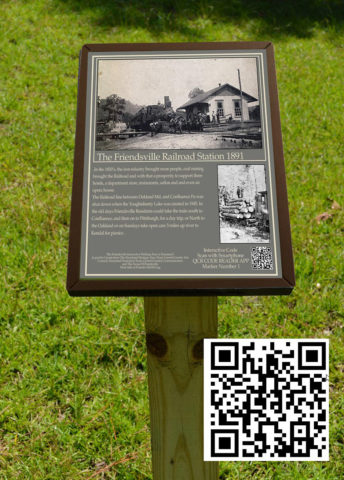 Web pages will allow for an interactive experience with history coming alive with video, sounds, more information and more photos.
Walking Tour Web site and individual Marker Web Pages will be web and mobile phone friendly and be connected to current town web site via a subdirectory.
Take The Tour Online 24/7
Web site visitors can take the walking tour online even if they aren't in town. This will be great for past residents and allow for folks from all over the world to 'tour' our towns rich history.
Web site will function as an ongoing repository for town memories. New videos, photographs and stories can be added anytime as resources allow. Links to Maryland History web sites and information will be included on a links page. An effort will be made to trade links with 20 other towns in Maryland and surrounding areas that have a walking tour and businesses will also have links and listings on the site.
A link to a comprehensive Business Directory Links Page will be included on every Markers Web page in the as well as links to the Town Calendar of Events page.
Long Term and Lasting Benefits
This tour and its markers will become a feature of the town where visitors and residents can interact and learn about their history. It will be a superb attraction that can help the town excite interest and encourage visitors to come for a visit. This tour will help establish history exploration as a viable theme and topic for the family travel experience.
A related Face book Page will be started by the Town to allow for Walking Tour Guests to comment and interact with the Town about the tour and town history.
The Maryland Heritage Area Authority awarded 52 matching grants this July for 2.7 million in awards. The Town of Friendsville was the number one grant submitted by our local heritage area and was one of 5 that received funding of the 7 submitted by Mountain Maryland Gateway. The Grant was funded for the entire amount requested, $14, 279.00.